NAI Long Island Commercial Real Estate Advisor Training Portal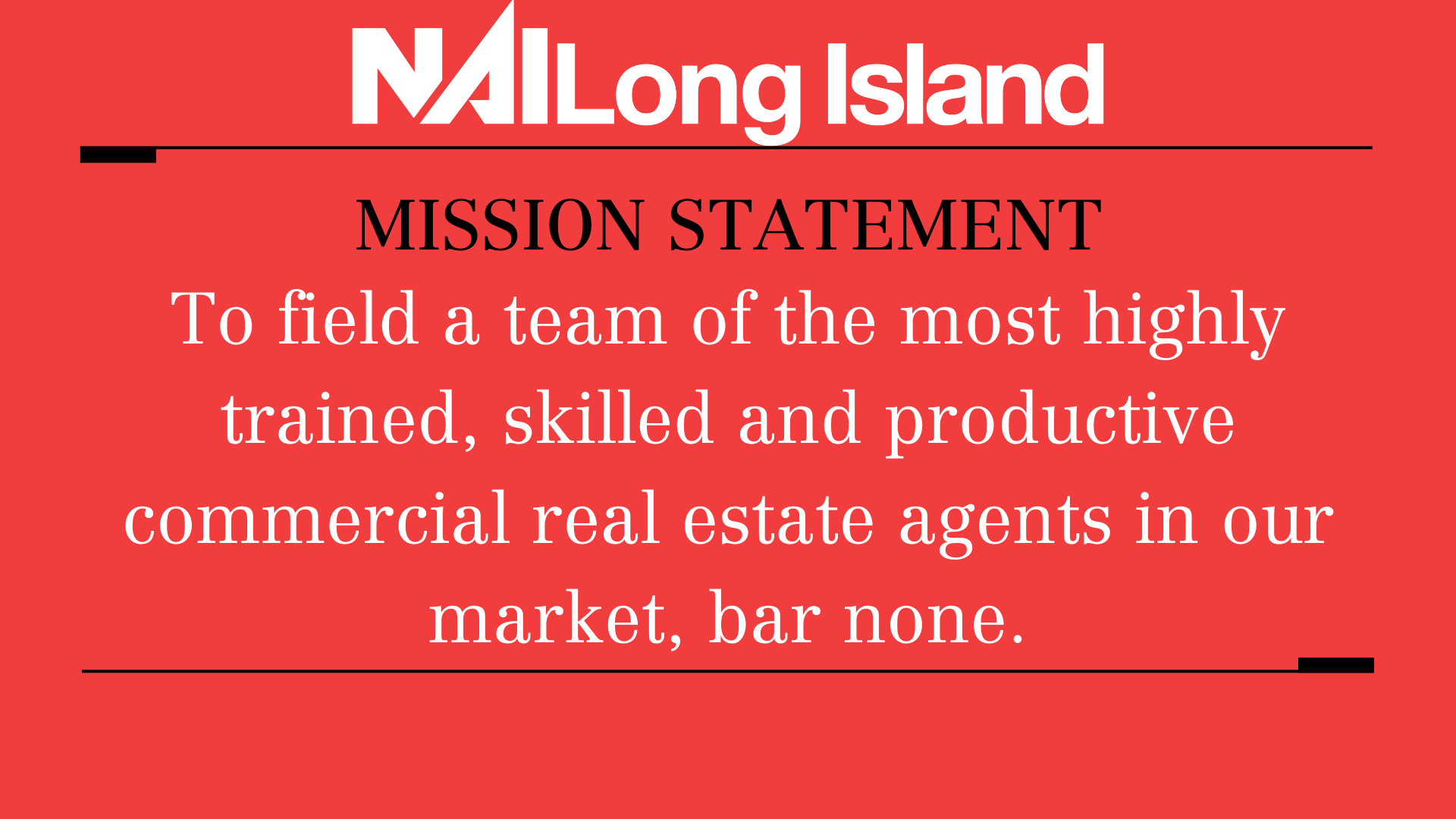 Welcome to NAI Long Island and thanks for considering commercial real estate as a career. The company has a long and consistent history of excellent client service. You will participate in a 6-month onboarding program taking you through the services, processing, and systems of NAI Long Island. Our transition program has proven to be effective, and we strive to ensure that you have everything you need to be successful in the challenging world of CRE.
First Steps:
Familiarize yourself with the NAI Long Island Learning Portal. It is comprised of the following six sections which can be accessed via the menu choices above
A. Black Belt Training
B. Dealmakers Training
C. Advisor Business Plan Training
D. Miscellaneous Sales and Industry Knowledge Training
E: Technology Training
F. NAI Global App Overview
Arrange for the transfer of your NYS RE License to NAI Long Island. See Sales Support for further information.
IMPORTANT!! Start managing/saving your usernames and password using KeePass App. Download at https://keepass.info/download.html. A comprehensive list will be provided to you by the Sales Support Specialist to give you access to the various technology tools you will use day in and day out, including your new direct dial telephone number, email address, and various URL's, usernames, and passwords
Log into the Desktop PC at your desk. Check for username and password in Keepass
Set up your nailongisland.com email (Gmail) on your Mobile Device. Check for username and password in Keepass.
Log into https://nailongisland.com/wp-admin and access the training resources found at https://nailongisland.com/training/. Check for username and password in Keepass.
Enroll in the six-month Black Belt Brokerage Commercial Agent Development and start coursework
Log into Vertical Wave Viewpoint Telephone App on Desktop PC in the office. Add a) Voice Title and b) Main VM Greeting through Viewpoint App. Learn more in Technology Training under Vertical Wave. https://www.waveanswers.com/waveanswers/answers?labelid=9ad17bbbe0f238d94d001535a5290e11 and https://nailongisland.com/wp-content/uploads/2022/09/Viewpoint-Phone-Quick-Reference-User-Guide-Ver-7.0.pdf
Add Vertical ViewPoint Mobile App to Mobile Device (Apple or Android App Store). Check for username and password in Keepass.
Learn how to use the phone system by reviewing, https://www.waveanswers.com/waveanswers/answers?labelid=8fc1da1f846c0af49e79390a5a15f8ac
Send any recent corporate headshots you have of yourself or arrange to get your photo taken with the Sales Support Specialist. Please dress for success for the photo shot. Business attire with a white shirt/blouse. A tie isn't necessary. A dark sport coat or equivalent over a white blouse works best.
Log into a) Buildout and b) CoStar and learn how to use both products. Both of these mission-critical apps have robust training resources. See Technology Training  https://support.buildout.com/hc/en-us/articles/360053295353-Buildout-Orientation-Video- for Buildout and https://www.costar.com/newsearch/help for CoStar.
Please familiarize yourself with Google Workspace, our primary platform for email, calendar, video conferencing, other electronic communications, and more.
Work on creating a professional bio. Go to https://nailongisland.com/connect/find-nai-long-island-people for examples
Familiarize yourself with KoFax Power PDF Advanced, our PDF creation and editing desktop application.
Familiarize yourself with Microsoft Office 365 and its extensive list of business software including Word, Excel, Powerpoint, Access, Publisher, Outlook, Teams, and more. Visit https://support.microsoft.com/en-us/microsoft-365 for training videos. You can install Office 365 Desktop apps on your laptop and home computer as well.
Trust in yourself. You are embarking on a journey into one of the best professional careers out there. Let's get started.
DOWNLOAD GETTING STARTED CHECKLIST BY CLICKING HERE DOWNLOAD NAI LONG ISLAND NEW ADVISOR DEVELOPMENT GUIDE BY CLICKING HERE
Management